Bassmaster Opens Top 10 Finish: TEST
By Rich Ortiz, Bassmaster Opens Top 10 Finisher
Anticipation and excitement were building with every hour that grew closer to official practice on The St Lawrence. I'll be the first to admit I was very intimidated. I couldn't help but feel I was in over my head. "I can't believe you're from NY state and you've never been to St Lawrence?" says my friend and mentor Ed Cowan. "Yup never been there always had plenty of big Smallmouth to catch in my neck of the woods." I was kicking myself for not getting out there. I knew I'd have to face some of the finest bass anglers on the planet on the seaway.
Official practice had begun. I convinced my good friend and fellow Cashion Crew member Addison Kelly to join the tournament as a non-boater. Well, after a long flight back from ICAST and a quick gig in Albany the night before on no sleep, there I was in Ogdensburg, NY.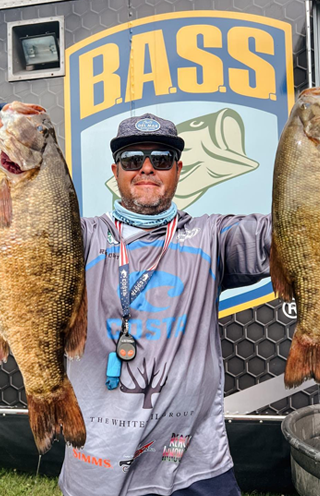 "Ok Addison let's just start on the first hump in front of the first bay we see and try to get used to the current." Boat comes off plane, trolling motor goes in, and panoptics showing me 4 nice size fish on a little rock hump. I toss the flatworm on my John Crews series Drop Shot Rod. That pole is one of my favorite rods in the whole Cashion line up if I might add, and…… boom! "I Got one! It's a big one Addison. good fish! and …..well it's a 7lb walleye … hmm at least I got the drift down," I thought to myself, keeping my optimism. I scan around a little more on the 19-foot edge and let's just say if it was a walleye tournament, I would have done very well. Moving further west throughout the day and after scanning 60 billion humps. I was able to catch my first decent smallmouth. That was the big clue I needed to get the ball rolling. Next day of practice I was able to find a 6.6 on a bed.
So, it was clear that the spawn wasn't totally over, and the fish were still transitioning and could be found shallow, deep, and in between. As I expanded on the area, to my delight, it was producing more quality fish, and this would just continue throughout the tournament.
The plan of attack day one: I ran 50 miles west of Waddington. First, I fished a Marabou jig tipped with a max scent little general which I cut in quarters to create more tentacle-like movement. This mimicked the crayfish they were gorging on as my livewell quickly indicated. I was happy to reconnect with the 6.6.lb bronzeback beauty in the first half an hour. The John Crews Micro Jig Rod handled this fish with the perfect backbone to set the hook on the big smallie along with the parabolic bend to handle the battle which becomes more complex on the river. Keeping the fish away from your boat for most of the battle was key to landing these fierce quarries.
As the day evolved, I found myself moving to small humps in 20-35 feet not far from spawning areas where there were a few good bass hiding in rock crevices. These fish would show themselves as my drop shot got close to the bottom on my forward-facing sonar, but most of the time you couldn't see them on sonar. I started to develop confidence on catching fish on clean rock with large cuts. I took the gamble on throwing drop shot on structure without seeing the fish, which paid off. I was using 7lb fluorocarbon leader and a 2/0 dropshot hook. I like using a 2/0 hook when it comes to catching giant smallies (anything over 5 lb) in my experience. I've lost too many good fish skin hooking them on smaller size drop shot hooks.


Upon my return on day two, I was pleased to find out I was sitting in 6th! Being right in the middle of the pack, as far as flights went, I knew, I had a lot of hammers still left to weigh in before it was all over. My wife and children were overly confident that I made it to the top ten. I however didn't see that happening with almost two hours of weigh-ins remaining. Well, for the last hour of weigh-ins I sat in 10th place. That's when emotions started ramping up. I couldn't leave the stage area. I just prayed to God and hung on every word Hank uttered. "You need 18.9 to take tenth ….17.3." Oh Lord! I was down to the last flight of anglers and one more guy with a over 20lb bag from the day before to go.
Hank finally calls weigh-in over and just like that, everything I've dreamed of was starting to come to fruition. I have been blessed to have some amazing moments in my music career, including recently opening for the legendary band Chicago, but that didn't touch the feelings of accomplishment and joy knowing I made it to the top ten and fishing day 3 of the Bassmasters Opens on the St Lawrence River!
Championship Saturday I was faced with adversity. It was all butter, "gravy" as they say. I was already in tenth and couldn't get any worse than that, so there was absolutely no pressure. I just go get 5 and have a blast doing it. Well, 26 miles into my 50-mile morning run my 2009 Bass Cat Pantera goes into limp mode. At that moment, I thought I blew a cylinder 5k RPMs at 35 MPH with the nose of my boat pushing water. Well, all at once, the pressure was on! My mind started racing. "What do I do now? Am I going to make it to my spots? Do I turn around? Oh Lord!" I came to the decision I was going to press on at 35 MPH to my spot, hopefully catch my five fish as quickly as possible and even more hopeful, make it back to the launch. Finally making it to my area as I stood up to get to my trolling motor, I could feel my knees buckle. I was shaken up but went to work. I had 18+ lbs. and at 10:00 am. I then made the safe decision to get back to Waddington. I made it back after a long ride. I tried fishing around Waddington hoping for a big bite but tried to no avail. 2pm came faster than it ever has before. I was delighted to see my wife and smiling children's faces on shore upon check in. Some highlights from top ten weigh-ins are as follows: being able to sing happy birthday on stage to my son, sitting in the hot seat with the boys on my lap, and being able to thank my sponsors for getting me there. I was thrilled with being able to complete day 3 and move up to 8th place. This will always be a cherished moment in my life, but a part of me will always wonder what would have been if I didn't have the boat trouble. Isn't that what keeps us going?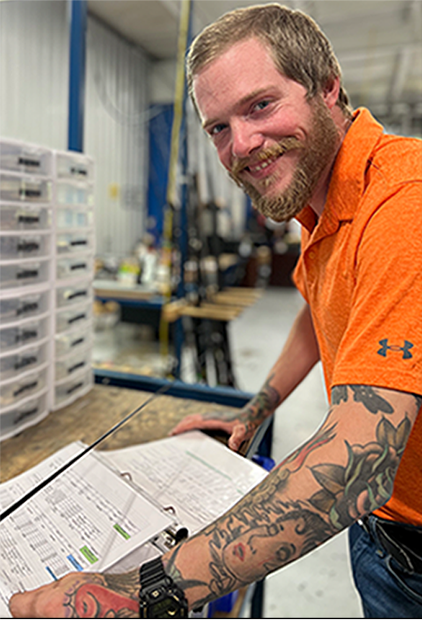 Talkin' Shop : Perspectives from the Craftsmen of Cashion
Read More